Finishing
We offer many different types of metal finishing applications for metal parts. Whether your part requires heat treatment, zinc plating, galvanizing, powder coating, E-coating or more, we have a variety of options available to you.
>> Wet Coating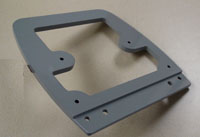 Our high quality liquid painted finishes are available in Polyurethane Enamel, Acrylic Enamel, Epoxy Primer & Topcoat, Polyester, and more.
>> Powder Coating

Clipper Industries' Powder Coating is an environmentally safe, more durable alternative to solvent based liquid paint. Powder coating is a systematic process utilizing finely ground plastic particles which are electrostatically charged and sprayed onto cleaned metal parts. The parts are then heated, melting the powder and forming a coating which is both physically and chemically bonded to the metal substrate. Because powder coating is physically cross-linked to the metal part, these coatings are typically more durable than conventional liquid coatings.
>> Zinc & Galvanized Plating

For those products where corrosion is a concern, we offer zinc and galvanzied plating.
>> Heat Treating
We offer heat treating services to meet our customers' requirements for continuous or batch hardening. Our experienced staff can work with you to determine the best heat-treated finishing for your product.